With the announcement of the BibleTech:2008 conference being hosted by Logos Bible Software my eyes glazed over and my mind started racing.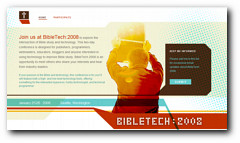 As many of you know I use two pieces of software for Bible Study (three if you count OOo). I start translating every passage (as much as I can) in Bibleworks. Then I Move over to Libronix and complete my work there, refining as I go. There is already excellent linking between the programs from Bibleworks 7 to Libronix. BW7 has done an outstanding Job in permitting linking with it's external links manager. Logos has yet to learn how to play nice with other programs.
(EDIT:
Bob Pritchett wrote to remind me of the Object Model Reference which effectively means that Libronix is completely open to playing nice with others.
You can create custom toolbar buttons within the Libronix DLS that contain JavaScript that uses the object model. You can also write external applications that drive the Libronix DLS in VB, VBA, JavaScript, C++, Delphi, or any other language that supports programming with COM objects. reference
Now that I think about it, hosting the conference is indicative of Logos' willingness to play nice.
I offer my apologies to Bob and to Logos for my misguided statement.)
The announcement as well as the blog posts from Logos employees Rick Brannan and President Bob Pritchett are quick to note that even though Logos is hosting/sponsoring the event it's not about Logos, it's rather about technology and the Bible. My hope for the conference is that relationships will be built between companies like Bibleworks and Logos (and E-Sword, Accordance, Gramcord, PalmBible+, Olive Tree and hundreds of others) which will encourage future cooperation on items which become visible in user world where I reside.
As one interested in Technology, the Bible and in Bible Software I am pondering a trip to Seattle next year to be a part. Whether I go or not, the speaker list is starting to look interesting.