Over on the Bible Design and Binding blog I was reading a post on Note-taking Systems for your bible when I linked to the Thomas Newberry Bible housed at the Dallas Theological Seminary Library: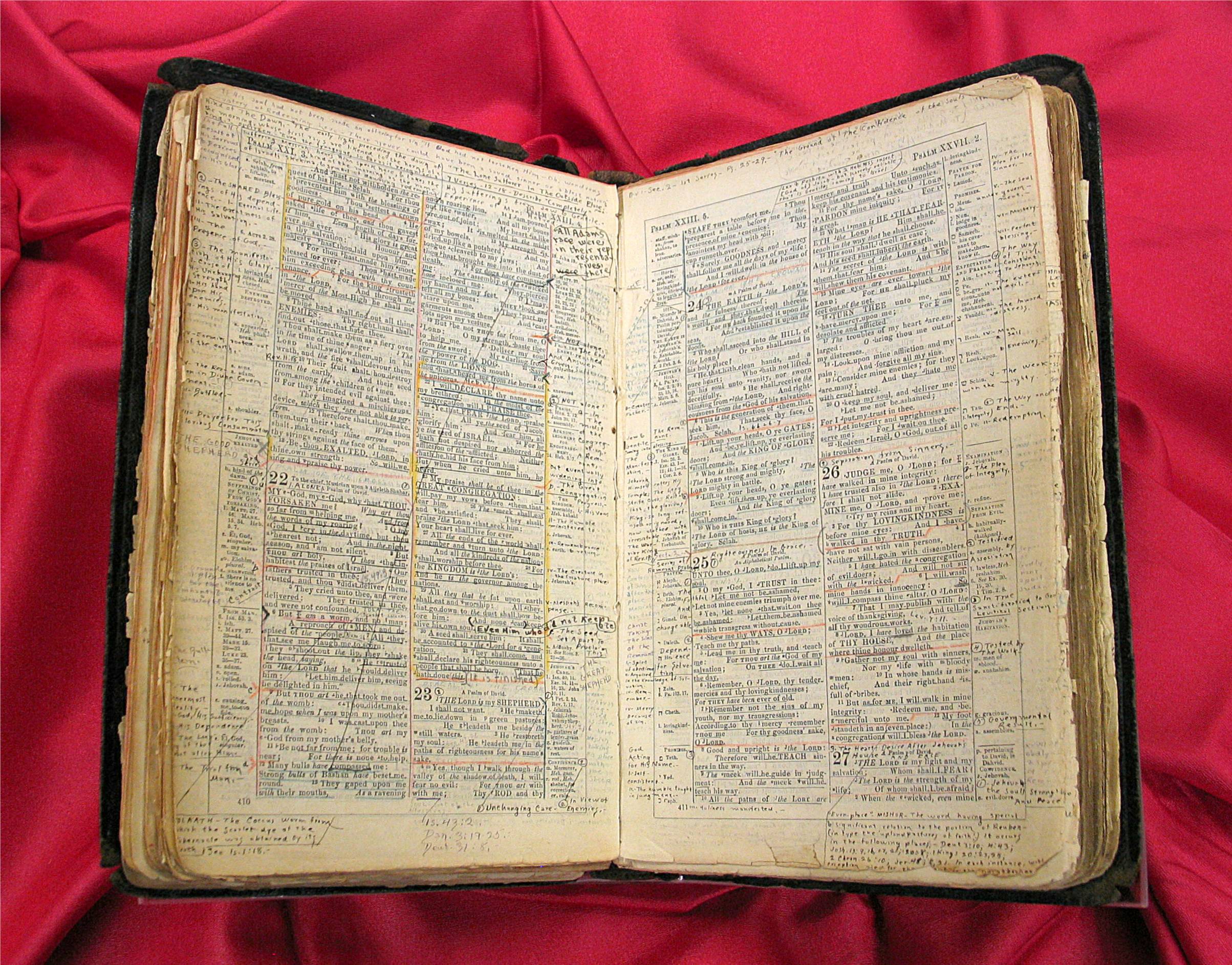 "…like Thomas Newberry, here is his "Newberry bible" which is a must for all [serious] bible students, and if you know some Greek it will bless your beyond comprehension. take a look and you can click the image to zoom in to the amazement of notetaking a la extreme"
—Bible Design and Binding
The DTS website explains that while the Bible itself was edited by Thomas Newberry the actual owner and thus the originator of the handwriting and lines was none other than Henry Ironside.
Now that is a truly beautiful bible! What makes it beautiful in my eyes? While I'm captivated by the lines and the colors, not to mention the multitude of notes sprinkled on the edges and laced carefully on multiple waving lines throughout the text, I am far more enthralled by the beauty of the process of Spiritual discovery, prayer and love of the word of God that developed the annotations of these pages.
I spent most of my day off yesterday copying more ancient notes from my old bibles to my still new NASB. In places my handwriting is not as legible as even I would like, but there are still notes of passion, discovery and heartfelt prayers laced throughout the text that I don't yet want to give up.
It was laborious and I only got through the first four books of the Pentateuch even though I've already been transferring these notes for over a month now. But what I haven't been transferring are the lines and demarcations that I'd previously scribed into my old worn out bibles. Largely because that radically increases the load of copying them over. Plus I want to reserve some more of the future of (re)discovery.
In addition to trying to copy all of my handwritten notes into just one Bible, I'm also attempting to transfer them in as meaningful a way possible into my electronic note taking medium: BibleWorks. (Buy it at Christian Book Distributors | Amazon.com)
I started using Bibleworks back when 4.0 was brand new. I had the great privilege of being a beta tester on 7 and I'm eagerly hoping that a version 8 is in the works. I may host a veritable smorgasbord of Libronix materials here, and not too many on the Bibleworks side, but that's because Michael Hanel and Jim Darlack do such an excellent job of hosting a plethora of materials and user created databases over on The BibleWorks Blog.
I absolutely refuse to put notes into Libronix, the notes interface is just plain horrible – especially in terms of speed. I don't deny that the Bibleworks Notes editor could use a few enhancements but I still think it works far and away better for me especially the way I work.
I already have over 3000 note files in Bibleworks on verses and chapters from Genesis to Revelation. Considering that there are over 31000 verses in the Bible I've barely annotated 10% of the total. But I keep making notes in Bibleworks.
My son is already planning on getting my previous Bible and I'm excited about that. But honestly I'm hoping even more to be able to give each of my children a full and complete copy of every annotation I've ever made in Bibleworks.
But I don't plan on doing that until I've successfully taught them how to mark up their own bibles with the record of what God has been teaching them as they go along. Then they to will have a truly beautiful Bible.